A Sarasota Tradition of Pride and Creativity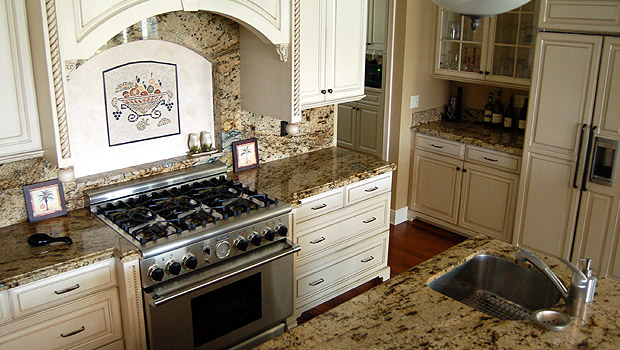 At European Marble all the work is done in-house, whether it is designing, cutting, polishing or creating decorative edges. Homeowners and interior designers can choose from hundreds upon hundreds of samples of marble and granite. No matter what material our clients choose, Joseph Lubrano and his knowledgeable staff delight in finding creative solutions, whether it's for a fireplace, a pool deck, floors, tables, desks or an entire house. "We are constantly bringing in the latest design ideas from Europe" says Lubrano "And everything we do, we do with pride. I love to treat my customers right."
Joseph Lubrano is something of an authority on genuine marble - he has been elbow deep in the stuff since childhood. He studied art and sculpting at the Scuola Artistica Industriale near his home in Tivole, Italy, and brought the painstaking techniques and craftsmanship of marble work to Sarasota when European Marble Company was opened 40 years ago. The marble is imported from Italy in great, thick 400 pound slabs for countertops, bars, baths and showers and custom furniture. The imaginative applications of marble in table bases, desks, fluted columns, rolled-edge Roman tubs and pedestal sinks have won awards such as the Sarasota Home Show First Prize.
Marble offers color choices from basic black and white to rich green, delicate pink, silver, terra cottas, cream and earth tones of honey, gold, brown, beige and wheat. Rose tones and exotic shades of blue and blue-gray can also be had. "Marble will always carry an aura of prestige," says Lubrano, "because it is a natural substance, something that cannot be duplicated and that is less than plentiful. But aside from its elegant look, marble has proven durability and will remain beautiful for a lifetime or more."